GREENBRIER RACEWAY'S
25th ANNUAL
THUNDERJET CHALLENGE
.

(Orange Lettering denotes 2017 rule changes / additions / updates / clarifications).
DATE: Saturday, April 1, 2017
.
TIME: 12:00 noon (Doors open @ 9:00am)
.
LOCATION: Greenbrier Raceway (64 Greenbrier ln. Rochester, NY)
.
RACE: Box Stock Aurora Thunderjet mini enduro
.
FORMAT: Mini-Enduro - 2 Qualifying heats / 8 Racer Main
Qualifying 1 - All racers, Top 6 go to Main - 5 min. Heats
Qualifying 2 - All Racers except top 6, Top 2 go to Main - 5 min. Heats
Main - Top 8 Racers from Qualifying - 20 min. Heats

All racing shall be divided into groups of 4 Drivers where possible (odd number of racers may require sitout positions). Driver / group selections shall be via random draw.

EVENT RULES


(Orange Lettering denotes 2017 rule changes / additions / updates / clarifications)

EVENT RULE
Once a vehicle/driver has entered the race (Qualifying heat 1, segment 1), ALL vehicle maintenance (oil, cleaning, etc.) shall be done on the driver's race time.
There shall be NO maintenance or repairs permitted during power 'off' periods (e.g. lane changes, sit-outs, between race heats). Should a vehicle be in pits for repairs and the race stops (Heat ends),
work on said vehicle must STOP !!! Any remaining work may resume on vehicle once race has continued (Green light)
(NOTE: The only exception to this rule shall be a track call specifically due to damage to vehicle by marshal - During such situation(s), only the DAMAGED vehicle shall be allowed maintance. NO OTHER Car shall be allowed work on)
Time 'off' between segments shall be just long enough to record results and for officials to change vehicle lanes and lane stickers. No one other than an appointed lane changer shall be permitted to touch any vehicle during time off. Any driver touching his/her car during time off shall lose 2 laps per occurrence.
During any sit-out period(s) and/or between heat races, an official shall collect all vehicles not currently racing and place in track lock box (impound).
As an enduro, laps and/or lap counters shall not be corrected for vehicles jumping lanes. Laps shall be recorded as shown.
Jumping / going threw lap counter on wrong lane - Per the Trakmate system, minimum lap time will be set meaning you WILL NOT GAIN laps should a driver goes through the counter on your lane. However, you
WILL LOOSE a lap should you go through the counter on a someone else's lane.

All other rules for race conduct shall be HOSCAR rules. (rotation direction, marshaling own car, conduct, etc.)
At the conclusion of the race, all vehicles shall be held in impound until a winner has been declared and has passed tech.
.
ALL prize winning vehicles SHALL be disassembled (tear down) and inspected,.

HEY, NO ENTRY FEES!!!

---

VEHICLE REGULATIONS

(Orange Lettering denotes 2017 rule changes / additions / updates / clarifications)

.

1. CHASSIS


Chassis shall be 100% Original Box Stock* AURORA THUNDERJET 500 chassis along with Original Box Stock* AURORA THUNDERJET 500 gear plate.. Chassis with either solid or hollow rivets shall be allowed. Chassis with silver plated electrical hardware (T/O or W/O chassis) shall not be allowed. NO chassis or gear plate cutting or modifications of any kind* shall be allowed. Aurora "Flame Thrower" (lighted) chassis may have light bulb and bulb retainer removed (grind off/remove rivet). No glue shall be used / allowed on chassis. Pick-up shoe mounting loops may not be bent or modified to restrict / alter any natural drop or side movement of pick-up shoes.
.(* In recent years, cars have been DQed for having the gear plate Idle gear nub spread / tightened buy having the nub "dimpled" - This is an ILLEGAL Modification)


2. RUNNING EQUIPMENT / HARDWARE

All running equipment / hardware shall be stock* AURORA THUNDERJET 500 parts of original factory size, length, material, location, ratio and/or design, and may not be altered. This shall include (but is not limited to) wheels, axles, gears, and gear plate clamp. Aftermarket Stock replacement parts shall NOT be permitted.
Only original stock* Aurora ModelMotoring T-jet street tires shall be legal (click here for tire description). No silicone or silicone coated tires shall be allowed. No rubber O-ring or flat side tires shall be allowed. Tires may be glued to wheels (Wheels may NOT be glued to axles). Sanding / grinding of tires to adjust for true and / or height shall be allowed on contact surface of tire only (no beveled tires). Stock 'ribs' on tires must be visible.
Pre-race conditioning (soaking) of tires will be allowed. However, Tires shall be DRY when raced. Traction glue prohibited.
Any reasonable aftermarket mounting screw(s) and guide pin shall be allowed. However, low profile or cut (ground) mounting screws are prohibited. Guide pin length shall fit stock Aurora 'pin & lock' track slot.
All gearing shall be original AURORA THUNDERJET 500 gears. 'Lapping' of gear plate brass gears shall be allowed, however, gears must remain stock AURORA THUNDERJET 500 . NO aftermarket gears shall be allowed. Drilling, hollowing out, or cutting for balance or lightning said gears shall not be allowed. No hop-up gears allowed. Crown gear must remain stock*.

.
3. MOTOR, MAGNETS, AND ELECTRICAL


Only AURORA Pan Chassis armature shall be legal. NO tampering of any kind to armature shall be allowed. Minimum armature Ohms rating allowed - 15 Ohms measured pole to pole after 5 minute cool down period.
Only AURORA THUNDERJET 500 Ceramic Aurora Pan Chassis magnets shall be allowed... meaning only Black/Black, Black/Black w/ White stripe, Green/white, and Green/Orange magnets shall be allowed. Super II, Tuff Ones, AFX, Auto World, (etc.) magnets shall NOT be allowed. Magnets shall be gaussed using a gauss meter and an average of readings will determine legality. NO cutting of magnets shall be allowed*. NO magnet shim(s) or flux collector(s) shall be allowed. (See http://slotmonsters.com/slot-car-pancake-motor-magnets.ashx for more information on Magnets)
Only AURORA THUNDERJET 500 Pan Chassis CARBON or replacement CARBON motor brushes shall be allowed. NO Silver brushed shall be allowed. No cutting of commutator brushes shall be allowed. Brushes shall remain FLAT on both sides
Only AURORA THUNDERJET 500 Pan Chassis Brass pick-up shoes or replacement Brass pick-up shoes shall be allowed. Silver coated shoes shall NOT be allowed. All pick-up shoes shall retain their stock* shape (equal to original length, step down, rail contact pad, etc.) Wide, long, and/or 'ski-shoes' shall not be allowed. Pick-up shoes may not be bent (other than fine adjustment) to restrict any natural drop or side movement. Pick-up shoes my not be cut, flattened, or soldered.. Shunt wires shall not be allowed. Pick-up shoe springs shall remain unrestricted.
.
4. BODY

Any stock* injection molded plastic body mass-produced specifically to fit the Aurora ThunderJet 500 chassis shall be allowed. Any Aurora Vibrator body that fits the Aurora ThunderJet500 chassis W/O any
modifications (though not specifically made for the ThunderJet 500) shall be allowed. Any body that extends the front wheels beyond the chassis and does not use the front stock* long/short wheelbase chassis
mounting holes are prohibited.
Body must fit a stock* Aurora Thunderjet 500 chassis without any alterations, except as noted, and shall have ALL factory accessories intact (windows, bumpers, grill, roll bars, pipes, etc.). Aurora "Flame Thrower" (lighted) bodies may have light bulb and chassis bulb retainer removed (grind off/remove rivet) from gear plate but must retain any clear plastic 'headlamp' lens body assembly.
Body shall use stock mounting system with BOTH front and back mounting screws intact.
Painting of the body shall be permitted on the exterior of body only. For ease of inspection for illegal repairs (such as cut wheel wells, grinding, and/or adding weight) painting of interior (underside) of body may be questioned. No additional body parts or modifications (wings, interior, spoilers, etc.) shall be allowed unless factory installed.

Due to common stripping/cracking of body mounting posts (even with newer type Model Motoring and/or Auto World bodies), body mounting posts may be repaired via gluing and/or wrapping with a few wraps of thread for support (NO metal sleeves or supports will be allowed). Any broken body mounting post(s) that requires completely replaced must use only plastic replacement post material (such as off another body) and be secured using glue or bondo (excessive use of glue or bondo may be restricted due to weight) Body mounting posts may be sanded/shimmed to adjust for height so long no other modifications are needed to body, chassis, or gear plate for body-on-chassis fit.
.
5. MISC.

Ballast (weight) shall not be allowed.
Any part in question will be deemed illegal.
.
Stock* Refers to most COMMON known chassis/parts. Although stock, NO 'skinny' Indy pan chassis, large style race or truck tires or wheels,
HOP-UP kit gears (including stock T/O or W/O gears) axle, gears, wheels, etc. shall be allowed.


CLICK HERE to view / print the TJC Quick-Glance reference chart

. .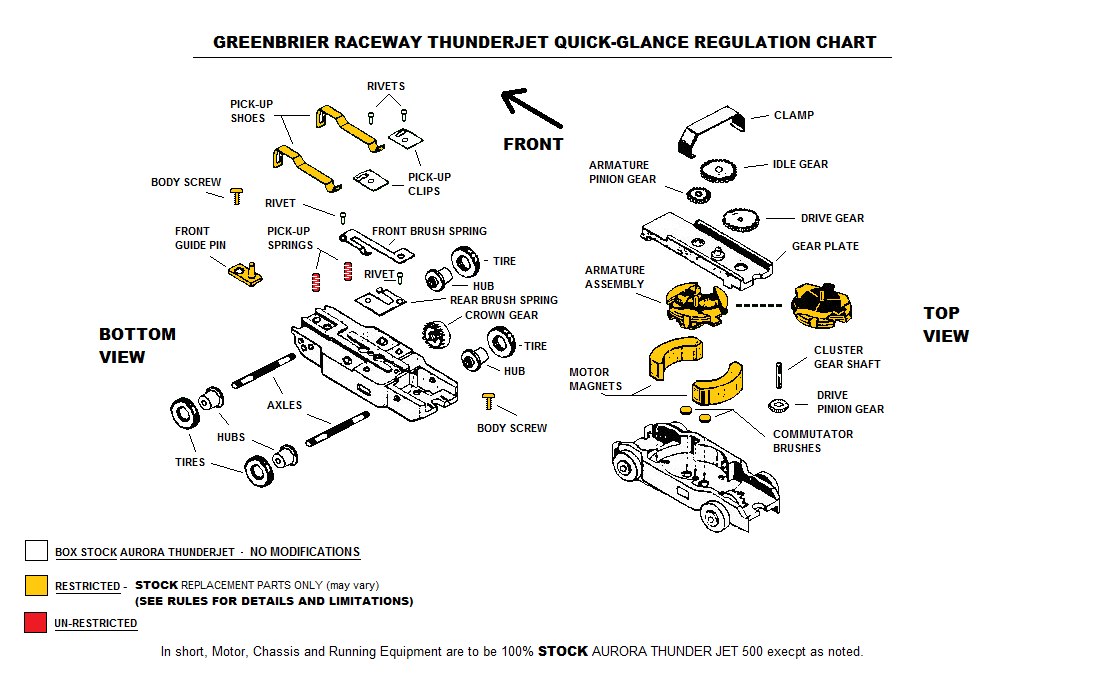 For more information, contact:
John Peckham
GREENBRIER H.O. CLUB of ROCHESTER
64 Greenbrier ln.
Rochester, N.Y. 14623
.
jpeckha2@rochester.rr.com
NOTICE
Greenbrier Raceway's GREENBRIER THUNDERJET CHALLENGE is an annual event held for the fun and enjoyment of vintage H.O. scale competition. Race prizes shall be awarded per availability, but are in no way guaranteed.
.
People wishing to sell or trade are encouraged to do so. However, there will be no format set for this purpose. Please note that all selling/trading shall be done 'out of box', and to keep tables clear for racer pit space.
.
---
THUNDERJET CHALLENGE home page